On Teacher Talking Time, Leo, Mike, and Andrew bring you discussions, interviews, and debates on English language training and learning. From approaches, misconceptions, and successful and failed case studies, each episode is dedicated to their vision: continual growth. They interview teachers and learners from around the world, and also debate the merits of common teaching approaches.
Episodes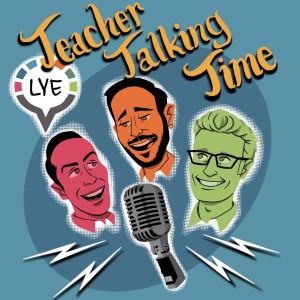 Thursday Nov 18, 2021
Thursday Nov 18, 2021
Want to teach less and earn more? Find out how. 
Mike, Leo, and Andrew get back in the studio for a special, bizarro episode. In this "Ask Us Anything" show, the guys prepared secret questions for the others. The only rule? They can't be about teaching or education. 
Of course, they're not great at following rules. 
Touching on Nickelback, self doubt, being vulnerable, accepting or rejecting dinner invitations, Stephen King, pending life goals, long distance relationships - and much more - they invite you on a different type of journey.
For a non-education episode, this is very educational. 
If you want to give your answer to the questions asked here, make a post in our teacher discussion forum. 
To ask us your "ask me anything" question, shoot us a DM on Instagram: @learnyourenglish  
Read more about this episode on the LYE blog.
Podcast Creation:
This episode was created with support from Thinkific & Podbean. If you're looking to launch a course or start a podcast, we highly recommend them - and use them ourselves. 
As always, thank you for listening. Your support has been overwhelming and we couldn't do what we do without you. We hope this podcast serves as an effective CPD tool for you.
If you have a comment or question about today's show, we'd love to hear from you: info@learnyourenglish.com 
For more info on what we do at LYE, check out:
Join Our Teacher Development Membership
Join our Self-directed Learning Portal
See Our Online CPD Courses for Teachers